Directions
From Denver/ DIA:

Take I-70 West approximately 95 miles. Turn South on Highway 9 (exit 203 at Frisco). Continue 9 miles into Breckenridge. Total approximate mileage is 104 miles.

From Colorado Springs:

Take 24 West out of Colorado Springs. Turn right on Highway 9 and follow to Breckenridge. Hwy 9 turns a couple times. Take right at first dead end. Take left at Fairplay. Road is well marked. Just watch for signs. Approximate mileage is 105 miles.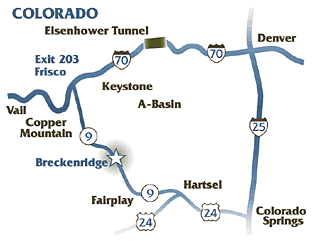 You have found the best place to look for your Breckenridge Rental. We specialize in online booking, bypassing the costs associated with reservation centers and management companies. Book today via our secure online reservation system and save on your Breckenridge Rental.
Or if you prefer, you can contact us to make your reservation. Our professional, dependable staff is ready to assist you with all of your Breckenridge Rental needs, including home rentals, condos, cabins, and townhomes in this great Colorado resort location. You can make your travel arrangements online or you may contact us for assistance at:
BreckenridgeRental.com
Breckenridge Rental
Breckenridge, Colorado
Reservations: 720-312-2948
Spoil yourself and your family by reserving your Breckenridge lodging today and get ready to enjoy your next vacation with BreckenridgeRental.com.